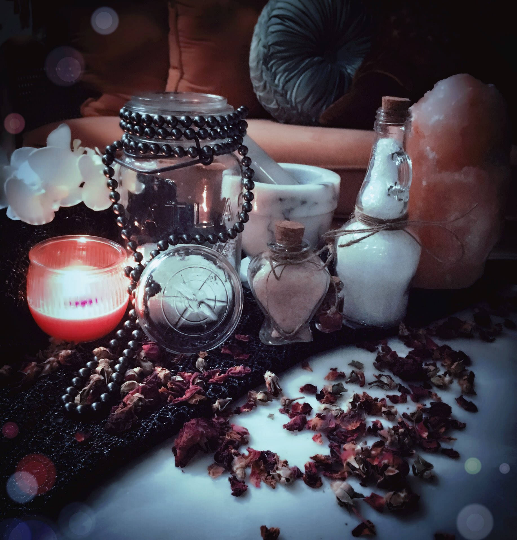 Gourmet Bath Salt
100% natural | Himalayan Salt | Sea Salt | Epsom Salt | Aromatherapy
An Ayurvedic bath can enhance circulation, elevate energy levels, rehydrate skin, relax muscles, promote better sleep and balance out our whacky selves.
Bath salts are the perfect way to turn your bathroom into an erotic spa. Take your pick from this sensual selection of stimulating bath salts.
Each individual order arrives in its very own uniquely chosen glass jar. (containers may vary depending on supply)
Great for a hot bath or shower.
INGREDIENTS:
Sea Salt Blend
Epsom Salt
Essential Oils
Vitamin E
Arrowroot Powder
Herbs
AVAILABLE BLENDS:
Lavendula - Lavender + other oils and lavender herbs
Bed of Roses - Rose + other oils and ground rose petals
Citrus Bliss - Citrus Scent and orange peel (PHOTOTOXIC)
Morning Wood - Woodsy Scent- Sandalwood + other oils
Waiting to Exhale - Respiratory & Sinus Relief
Fey Fantasy - Iridescent Shimmer powder, Juniper berry+ other oils
SIZES: Jar shape varies the amount.
ONE- 3-4 oz
TWO- 8-10oz
THREE- 16oz
HOW TO USE:
Fill a muslin bag with your herbal mixture. Close the top and toss your herb bundle into a tub filled with the hottest water you have. Walk away for a while and give your bath time to cool down to a comfortable temperature. When you come back your bath will have infused right in the tub!
Store in airtight container in a dark dry place to prevent molding.
Shelf Life- 1 YEAR or 6 months with herbs
.
BULK ORDER PURCHASING AVAILABLE!
WE DO wedding, bridal, baby shower and party favors TOO... Available in SMALLER SIZES!
1oz-2oz favors varies depending on choice and available containers.
30 day advanced order time REQUIRED.